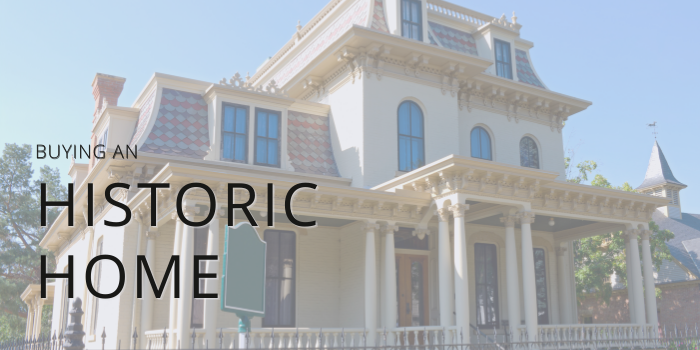 There's nothing like the charm of a historic home. From hand-carved wood detailing to the original glass windows, historic homes continue to withstand the test of time. While searching for a home, you may come across a historic home that you know is the perfect place for you and your family. There can be certain upkeep and factors that come with a historic home, so before you get the keys, here are some things you should consider first.
The Difference Between a Normal and Historic Home
You may look at a historic home and think it's not very different from the newer house next door. On the surface that may be true, but there's more to it than what you can see., 
Historic homes earned this distinction because they met the requirements of the National Registry of Historic Places. To be considered, the Registry uses the following criteria:
The house must be at least 50 years old

It's connected to significant, historical events

It's connected to the lives of significant people 

It's considered the embodiment of a particular master or historical style 

It has provided or is likely to provide historical information 
The history embedded in the fabric of a historic home may mean more rules and regulations when it comes to remodeling and the upkeep of your home. 
Many historic homes are located in historic districts and must stay on par with the aesthetic of all the other homes in the area.The National Registry of Historic Places itself doesn't require the renovation or upkeep of these homes, but local historic districts or homeowners associations may have their own rules. Usually, any renovations you decide to make have to be historically accurate. This can add a lot of time and money to any potential projects. But if you love the history of architecture, keeping up with a historic home could be a passion you'll never tire of. 
Benefits of Owning a Historic Home 
Buying a historic home gives you access to a community of others that are passionate about preserving history and the stories their homes can share with others. Most people who own these homes connect with them and want to put in the work to keep them looking great. Unlike a new home, that's value can decrease over time, historic homes have a great return on investment. The older they get, the more valuable they can become to prospective buyers. There are also some tax incentives you can look into when buying historic homes, including assistance for renovations. 
Purchase with a Home Loan
If you are a veteran or family of a veteran, we are proud to offer loans to help you find the home of your dreams. If you have fallen in love with a historic home, we're here to help you get your foot in the door. Although historic homes offer tax benefits, we can work with you to secure the loan you need to make it yours. Contact us anytime for $0 down on a VA home loan and enjoy the beauty and history of your new historic home.