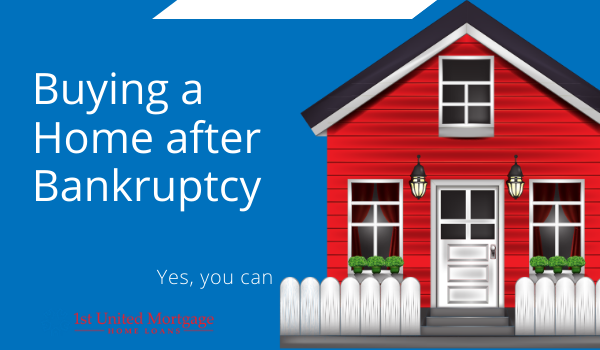 Deciding to purchase a home comes with an array of obstacles on its own, but throwing bankruptcy into the mix can feel like straying from the path entirely. But fear not, it is still possible to buy a house!
Your financial profile, including your credit score, may be a point of concern as it can lower your chances of getting pre-approved for a loan. Still, fortunately, the rules for a VA loan differ slightly from a conventional loan and can ultimately provide some good wiggle room during the approval process. 
How Soon Can I Buy A Home After Bankruptcy?
The two most common types of bankruptcy are chapters 7 and 13, and it can take up to 1-4 years after filing for bankruptcy to qualify for a mortgage, depending on the type of bankruptcy you filed for. 
Chapter 7
This chapter is a liquidation bankruptcy, which pardons certain debts and utilizes non-exempt property to pay the remaining ones. If you've filed for this chapter, the Department of Veterans Affairs requires loan recipients to wait a minimum of two years before closing on a loan. 
You can reduce this wait to less than a year if your reason for filing bankruptcy was on account of a self-employment business failure, and you've since been employed at a permanent position without other issues with your credit. 
Chapter 13
A chapter 13 bankruptcy allows you to repay your creditors in 3-5 years through a fixed payment plan, after which the court will eliminate your remaining debt. You'll customarily need to be approved by the bankruptcy court to obtain a mortgage or any other loan during this bankruptcy period. And for a VA mortgage, you'll need to wait at least months to qualify. 
How To Get Pre-Approved
After repairing your credit and waiting the appropriate amount of time, you're almost ready to get the keys to your new home based on your consumer bankruptcy type!
First, you have to undergo a mortgage pre-approval process, giving you a nice in with your real estate agent and making the closing process smooth sailing. Pre-approval essentially recommends the mortgage amount for which you qualify after evaluating your income, credit, and debts. 
For a VA loan, though, and here at 1st United Mortgage, you only require a 580 minimum credit score and require no down payment. Exciting, right? 
Here's a list of documentation you'll likely need to get the process started:  
Social Security card

Pay stubs from the last two pay periods

W-2 forms for the previous 2 years

Tax returns for the previous 2 years

Bankruptcy letter of explanation

Any additional bankruptcy documents
A financial hiccup can happen to the best of us, and being a homeowner shouldn't seem like a distant dream because of it. If you're current or former military and you're deciding if now is the perfect time to buy a home, contact us here to speak to a broker and receive guidance on all of your VA loan inquiries.