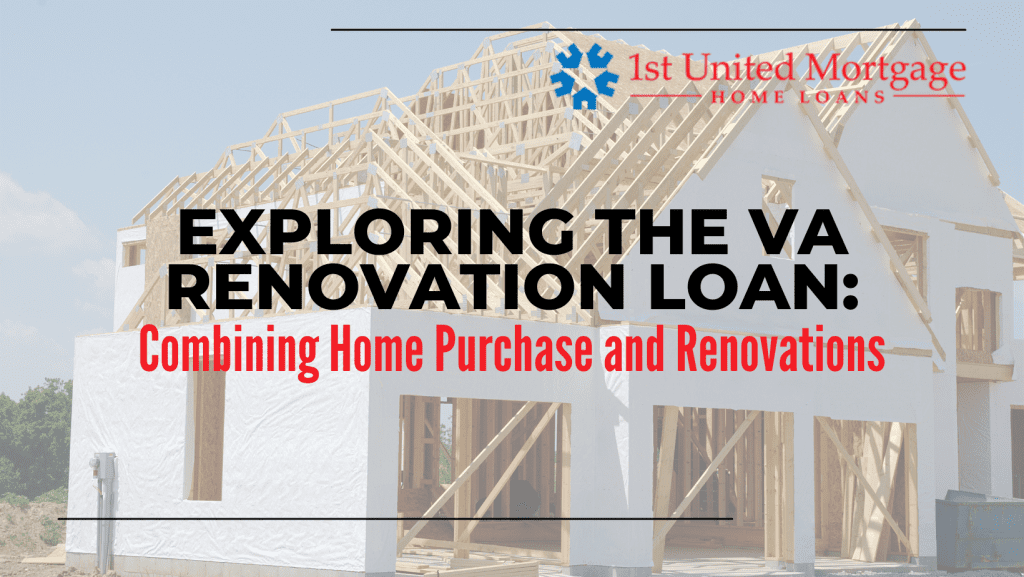 As a trusted mortgage provider specializing in VA loans, 1st United Mortgage is dedicated to helping veterans and active-duty military members achieve their homeownership goals. One powerful option available to eligible borrowers is the VA renovation loan. This unique loan program allows you to combine the purchase of a home with the financing for necessary renovations or repairs. In this blog, we will explore the VA renovation loan and how it can help you turn a fixer-upper into your dream home.
What is a VA Renovation Loan?
A VA renovation loan, also known as the VA Rehabilitation Loan or VA Rehab Loan, is a specialized loan program designed to assist eligible veterans and service members in financing both the purchase of a home and the cost of renovations or repairs. This loan provides the opportunity to turn an outdated or distressed property into a customized and modern living space while utilizing the benefits of the VA loan program.
Benefits of the VA Renovation Loan
The VA renovation loan offers several benefits that make it an attractive option for borrowers:
One Loan, One Closing: With the VA renovation loan, you can streamline the financing process by combining the purchase and renovation costs into one loan. This means you only need to go through one loan application, approval process, and closing, saving time and effort.
Access to Affordable Financing: The VA renovation loan is backed by the U.S. Department of Veterans Affairs, which provides lenders with an added level of security. This backing allows for competitive interest rates and favorable loan terms, making the loan more affordable for borrowers.
Increased Buying Potential:

By considering properties that require renovations, you can expand your options and potentially find a home in a desirable location at a more affordable price. This allows you to unlock hidden value in the real estate market and create the home of your dreams.

Personalization and Customization:

The VA renovation loan gives you the flexibility to tailor your home to your specific needs and preferences. Whether it's updating the kitchen, adding an extra bedroom, or creating an open-concept living space, you can transform a house into your ideal home.

Preserve the VA Loan Benefits:

By using a VA renovation loan, you can still take advantage of the benefits offered by the VA loan program, such as no down payment, no private mortgage insurance (PMI), and competitive interest rates.
Eligibility Requirements
To be eligible for a VA renovation loan, you must meet certain criteria:
VA Loan Eligibility:

You must be an eligible veteran, active-duty service member, or surviving spouse to qualify for a VA renovation loan. The specific eligibility requirements can be determined by contacting 1st United Mortgage or referring to the VA's guidelines.

Property Requirements:

The property you intend to purchase and renovate must meet certain requirements set by the VA. This includes being a primary residence and meeting minimum property standards to ensure habitability and safety.
The Renovation Process
The VA renovation loan process involves several key steps:
Determine Renovation Scope:

Work with a qualified contractor to assess the necessary renovations and establish a detailed scope of work. This will help determine the estimated costs and ensure the project aligns with your budget.

Obtain Quotes and Estimates:

Gather multiple quotes from licensed contractors to compare costs and choose the best option for your renovation project.

Select a Lender:

Choose a reputable lender experienced in VA renovation loans, such as 1st United Mortgage. Our team can guide you through the loan application and approval process, ensuring a seamless experience.

Loan Application and Approval:

Complete the loan application, providing all necessary documentation, including the purchase agreement, renovation plans, proof of contractor licensing, and cost estimates. The lender will review your application, verify your eligibility, and assess the feasibility of the renovation project.
Appraisal and Inspection:

The lender will order an appraisal to determine the current value of the property as well as the estimated value after renovations. Additionally, a home inspection may be required to identify any necessary repairs or safety concerns.

Loan Closing and Disbursement:

Once the loan is approved, you will proceed to the closing process. At closing, the funds for the purchase and renovation costs will be disbursed, and you can begin the renovation work.

Renovation and Project Completion:

With the funds available, you can commence the renovation project under the guidance of your chosen contractor. It's essential to communicate regularly with your contractor and monitor the progress to ensure the work aligns with your vision.

Final Inspections and Completion:

Once the renovations are completed, final inspections will be conducted to ensure they meet all building codes and requirements. Once approved, you can enjoy your newly renovated home.
Ready For A VA Renovation Loan?
Ready to transform a fixer-upper into your dream home with a VA renovation loan? Contact 1st United Mortgage today at 931.548.1985 or visit our website to learn more about the VA renovation loan and start the process. Our experienced team of professionals is dedicated to helping you navigate the loan application and approval process, ensuring a seamless experience from start to finish.
Reach Out To 1st United Mortgage
The VA renovation loan is an excellent option for eligible veterans and active-duty service members looking to purchase a home in need of renovations. It combines the financing for the purchase and renovation costs into one loan, providing convenience and flexibility. With the assistance of 1st United Mortgage, you can unlock the potential of a distressed property and create a personalized home that meets your unique needs and preferences. Take advantage of the benefits of the VA renovation loan and embark on a transformative homeownership journey today. Contact us to get started and turn your vision into reality.