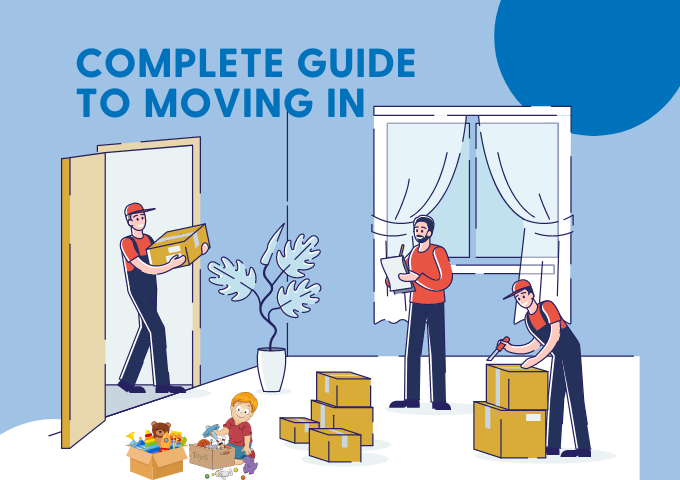 Time to move into your new home! This can be an exciting time, but it can also be a little overwhelming. There are so many things to do and organize! That's why we've put together this guide to moving in to help make the process a little easier. 
From unpacking your belongings to getting the kids settled in school, we've got you covered. So whether you're just starting to pack or are already on the road, make sure to bookmark this page!
The first thing you'll want to do when you arrive at your new home is to take a deep breath and relax. It can be tempting to try to unpack everything right away, but trust that it's better to take your time.
Start with the essentials.
The first thing you're going to want in your new home is likely to be your bed! So find the linens and set up everyone's beds so that when the day ends, you can fall into the familiar comfort of your own bed. Don't forget the towels!
Take a trip to the store
Before you begin unpacking, you'll want to make sure you have the essentials. Here's a list of household, pantry and refrigerator items you'll need right away:
At first, you'll want food that is easy to prepare and doesn't make a lot of mess. If you think it will take a while before you get to your dishes, you may want to add paper plates and plasticware to the list.
Decide on the order of unpacking
It's always best to unpack the essentials first. You'll need them right away and unpacking them will give you a sense of accomplishment. After that, it's up to you whether you want to go room by room or save the bedrooms for last. Be sure to check for damage and to take notes and pictures of any damage you may find for a claim.
Be sure to recycle your boxes and packing materials. You can list them for free on places like Craig's list and Marketplace. Once someone agrees to pick up the materials, you can leave them outside for them to take.
New Home Safety
Child and pet proof your new home
Check your space, indoors and outdoors, and look for potential hazards. Be sure to install standard safety gear.
cabinet locks

outlet covers

baby gates

check for long cords from blinds

make sure the back yard gate secures
Change your door locks
The locks on your front door should be a top priority. It's never too early or late in the day for this task, so get down there with all those keys and change them out. It's worth considering a keyless entry. If you get locked outside without your keys, it's no problem with keyless entry.
Update or install a home security system
There may be security system hardware in place in your new home and all you have to do is contact the company and set up service in your name. If not, call in some experts and get their advice and their quotes.
Locate various cut-offs, breakers, and fuses
In the event that there is an emergency, whether a water leak or power outage, you need to know where these things are. The time to learn where they are is not when you already have a leak!
Test smoke and carbon monoxide detectors
Replace the batteries. You have no idea how old the batteries are. You can't go wrong with fresh ones.
Check the appliances
Make sure they all work and that the refrigerator's temperature is set correctly
Settle into life in your new hometown
Get the kids enrolled in school as soon as possible
If your children are of school age, getting them enrolled should be one of your first priorities. It's best to do this sooner rather than later so they can make friends and get settled in.
Meet your new neighbors
Getting to know your neighbors is a great way to settle into a new home. introduce yourself, exchange contact information, and invite them over for dinner or a barbecue. You'll be glad you did when you need a cup of sugar or want to borrow a tool.
Get to know your new town
One of the best ways to feel at home in a new town is to get to know it. Learn where the closest emergency room is. You should also learn where the nearest gas station, grocery store, and hardware or big box stores are. Visit parks, wander around and explore, find the best places to eat and shop, and get a feel for the lay of the land.
Join a club or group
Joining a club or group is a great way to meet people with similar interests and make new friends. Whether it's a book club, bowling league, or hiking group, there's sure to be something for everyone. And who knows, you might just make some lifelong friends.
Professionals you trust
One of the most important things you can do when you move to a new town is to find professionals that you trust. Doctors, dentists, lawn professionals, hair stylists, mechanics, and so many more! It can be overwhelming to start over, but before you know it, you'll have everything in place. Here are some tips to find experts you can trust:
 Start by asking neighbors, your real estate agent, and coworkers for recommendations.

 You can also ask your current doctor or dentist if they know anyone in your new town.

 Another option is to use an online directory, such as the American Medical Association's "Find a Doctor" tool.
Once you've compiled a list of potential providers, be sure to check their credentials and reviews. Schedule an appointment with doctors, dentists and stylists. Don't worry. If the first candidate isn't right for you–keep looking. The right people are out there. 
Moving to a new town can be both exciting and daunting. With a little effort, you'll soon feel right at home in your new town.
If you're getting ready for a move to any one of our areas, 1st United Mortgage has the home loan solutions you need. VA Loan Lenders Proudly Serving Military Families. The VA Home Loan is available to veterans & active members of our armed forces*. Contact us today at 931-548-1872, or get started online.
*FHA, USDA, & other options available for those who don't qualify for VA home loans..