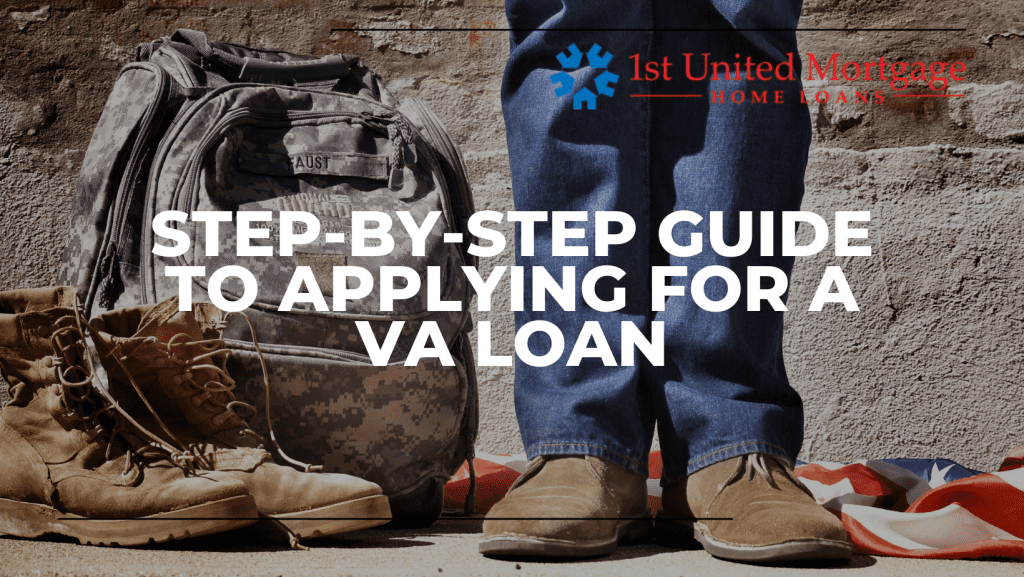 At 1st United Mortgage, we take pride in assisting veterans and active-duty military members in achieving their homeownership dreams through VA loans. As a trusted VA lender, we understand the importance of providing a seamless and straightforward application process. In this step-by-step guide, we'll walk you through the process of applying for a VA loan, ensuring you have all the information you need to embark on your journey to homeownership.
Understanding VA Loans
Before we delve into the application process, let's briefly review what VA loans are and their benefits. A VA loan is a mortgage loan program offered by private lenders but backed by the U.S. Department of Veterans Affairs. It aims to support eligible veterans, service members, and surviving spouses in obtaining affordable home financing.
VA loans come with various advantages, including:
No Down Payment: One of the most significant benefits of VA loans is that qualified borrowers can purchase a home without the need for a down payment.
Lower Interest Rates: VA loans often offer competitive interest rates, saving borrowers money over the life of the loan.
No Private Mortgage Insurance (PMI): Unlike conventional loans, VA loans do not require PMI, further reducing monthly costs.
Lenient Credit Requirements: VA loans have more flexible credit guidelines, making them accessible to a broader range of borrowers.
Easier Qualification: VA loans consider the borrower's residual income, which can make it easier to qualify for financing.
Step 1: Determine Eligibility
The first step in applying for a VA loan is verifying your eligibility. To qualify, you must be one of the following:
A veteran who has served in the U.S. military for a specific period, depending on the era of service.

An active-duty service member who has served for a minimum period.

A National Guard or Reserve member who has served for a specific duration.

A surviving spouse of a veteran who died in service or from a service-related disability.
To confirm your eligibility, you'll need a Certificate of Eligibility (COE), which you can obtain through the VA or with the assistance of 1st United Mortgage.
Step 2: Gather Required Documents
Once you've established eligibility, gather the necessary documents for the application process:
Proof of military service (DD-214 or Statement of Service).

Recent pay stubs and W-2 forms for the past two years.

Bank statements for the last two months.

Employment history and contact information.

Information on any other outstanding debts.
Step 3: Prequalification
Before diving into the full application, consider prequalification. Prequalification is an informal process where you provide basic financial information to a lender, who will then estimate how much you may be eligible to borrow. While prequalification doesn't guarantee loan approval, it helps you understand your potential purchasing power.
Step 4: Complete the Loan Application
With your documents in hand, it's time to fill out the loan application. At 1st United Mortgage, we offer a user-friendly online application or the option to apply in person or over the phone. Our experienced loan specialists are ready to assist you throughout the process.
Step 5: Obtain a Home Appraisal
After submitting your application, the next step is to conduct a home appraisal. The VA requires all properties to undergo an appraisal to determine their fair market value. This step ensures that the property's price aligns with its true market worth.
Step 6: Processing and Underwriting
Once the appraisal is complete, your loan will move to the processing and underwriting stage. During this phase, a loan processor will review your application, verify your documents, and ensure that all necessary information is in order.
Step 7: Loan Approval
Following underwriting, you'll receive the lender's decision on your loan application. If approved, congratulations! You're one step closer to becoming a homeowner.
Step 8: Loan Closing
The final step in the process is the loan closing. At the closing, you'll sign the necessary paperwork and finalize the loan. Once everything is complete, you'll receive the keys to your new home.
Contact 1st United Mortgage
Ready to start your journey to homeownership with a VA loan? Contact 1st United Mortgage today at (931) 548-1985 to speak with our knowledgeable loan specialists. We are here to guide you through the application process and help you secure the financing you need to achieve your homeownership dreams.
Applying for a VA loan doesn't have to be daunting. With the guidance of 1st United Mortgage, you can confidently navigate each step of the process, from verifying your eligibility to closing on your new home. Our team is committed to providing a smooth and hassle-free experience, ensuring that you can enjoy the benefits of a VA loan and embark on the path to homeownership with ease. Don't hesitate – contact us today to get started on your journey to owning the home you deserve.