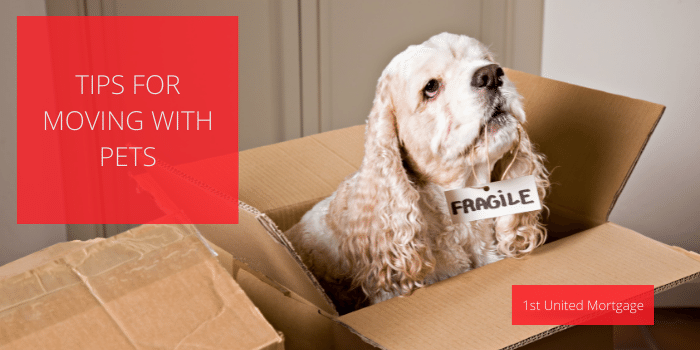 Moving is both an exciting and exhausting time that brings with it a lot of meticulous planning and a lot of trying to remember if you forgot that one thing. But if you're a pet parent, we're sure your beloved pet is a top priority. 
Still, it's easy to slip up on your moving checklist when you're doing a million things at once, so we've compiled some helpful tips for making sure you and your pet have a smooth, comfortable transition into your new home together. 
Ease your pet into the moving chaos
Boxes, tape, and miscellaneous objects strewn across your floor are typical scenes in the home of anyone moving house, but these can be a huge stressor to your furry friends. Animals are pretty fond of routine, and moving is incredibly far-removed from anything they're used to, so a great way to ease your cats or dogs into this newfound chaos is to expose them to it little by little every day. Consider only packing a few boxes at a time and leaving them around the house. After a couple of days, they won't even notice them.
Obtain records and a check-up from your vet
Like humans, pets need to have a clean bill of health and be equipped with all of their medical records to prepare for a smooth transition into a new city or even a new neighborhood. Some things to ask your pet's vet about are whether all of their vaccinations are up to date and if you can receive a copy of that vaccine history.  
If your pet takes any medication, this is also an excellent opportunity to get a refill to avoid an emergency visit to an unknown vet in a new city. In that same vein, ask your vet if they have any recommendations for good doctors in your new location. 
Study up on pet laws if moving to a new city 
Chances are you've probably read up on the pet rules of your for your lease, but you may not have considered pet laws in your new locale. The best thing you can do to prevent any surprises is to make sure your dog's tags are up to date and that they're micro-chipped. 
Pack your pet's essentials 
Leave the toy chest for the movers, but be sure to pack your pet's favorite toys in addition to their everyday basics. Here's a checklist for you to use as a reference:
Food

Can opener (if needed)

Food and water bowls

Treats

Medications or supplements

Waste bags

Vet contact information

Potable water for drinking

Pet bed

A small selection of toys

Pet photos in case they get lost
Pet-Proof Your Home
When finally stepping foot into your home, your pet is more likely to encounter hazards as they explore their new space. Be sure to secure any entryways, including gates, windows, and doors. Balconies can be dangerous, so adding some fencing on the inside can help prevent them from squeezing through the bars. 
Check for any potential poisons, such as leftover pest control traps or poisonous plants, that could hurt your best friend, as well as any dangerous objects that could be a choking hazard such as electrical cords. 
With careful planning, moving with pets can be done with a minimum of fuss.  At 1st United Mortgage, we can make financing your home easy, too. Give us a call today!