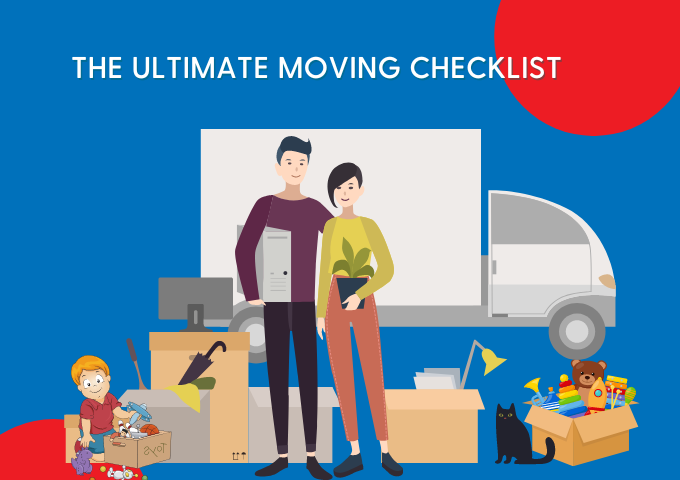 The thought of moving can be intimidating, but with a little bit of planning, it can be a relatively stress-free experience. In this blog post, we created a detailed checklist to take you from the early stages of planning to moving day. Whether this is your first move or you're an old pro, this step-by-step guide should help keep you organized and on track.
Are you planning to purchase a home in your new hometown? 1st United Mortgage is a VA approved lender located in Tennessee, Florida, Kentucky, Alabama, Colorado, Georgia, North Carolina, and Virginia.  We are here to make your home-buying dreams come true. Call us at 931.548.1985 or apply online.
3 Months Before You Move
If you start to prepare for your move three months in advance, you'll have plenty of time to get organized and plan for a smooth transition. This section of your moving list isn't full of details, but rather contains the first, broad steps to take.
 It's time to start creating your moving folder/binder. This is where you will keep all important documents related to your move, including your lists! 

It is important to keep this folder/binder in a safe place. We do not recommend taking it with you on your moving errands. Instead, get a separate folder and a small notebook (or use a notes app on your phone) when you're away from home and transfer the information to your main binder later.

If you're in the military, you should contact your Transportation office as soon as possible to learn their process.

 Decide whether to pack and move yourself or hire professional movers. 

If you hire movers, research companies and get estimates from three different ones.

Military:

Transportation will provide you with professional movers for a PCS if you want. Find out if you have any choice in the company you use.

If you plan a DITY move (

D

o

IT Y

ourself), you will want to begin packing right away and reserve your moving truck now.

Put important documents such as birth certificates, social security cards, passports and other official papers for you and your family members in your folder/binder.

If you are renting, notify your landlord of your intent to move.

Decide if you will sell your home or keep it and rent it to others. If you decide to sell, start researching real estate agents in the area. If you decide to keep it, finding a good property manager should happen at this time.

Talk to your kids about the move. Let them know they are welcome to talk to you if they have any worries or concerns.

Budget for moving expenses such as gas, lodging, food, etc.

Purge excess belongings. If you're like most people, you have way more stuff than you need. Moving is a perfect opportunity to declutter your home and get rid of things you no longer use or need. Not only will this save you weight on your move, but it will also make unpacking and setting up your new home much easier.
 2 Months Before the Move:
 Pack out-of-season clothes, books, and other nonessentials.

 Keep cleaning out the closets of clothing, toys and household items you no longer need.

 Have a yard sale or donate unwanted items to charity.

Find your new home well in advance of your move

Research the area you're moving to. This will help you decide what kind of neighborhood you want to live in and what type of home you're looking for. This will narrow your search when you start looking at homes online or in person.

Get pre-approved for a mortgage loan. This will give you an idea of how much house you can afford and help speed up the process when you find the right one.

Start looking for homes online in your price range and desired location. When you find ones you like, be sure to save them so you can go back and look at them again later.

Once you've found a few homes you like, it's time to start visiting them in person. 
 1 Month Before the Move:
  Arrange for utilities to be turned off at your old home and turned on at your new home. Also cancel (and set up!) other services.

Electricity

Gas

Phone

Internet

Cable

Lawn care 

Housekeeping

Subscription Boxes
Make sure you have (or will have) enough of any prescription medications you need to get you through the move.

Confirm arrangements if you are using professional movers.
2 weeks before moving day
Two weeks might still seem like a lot of time, but there's still so much to do. Use this time to make sure all your accounts and records are up-to-date and finalize the details of your upcoming trip.
Put in your change of address with the post office. This can be done online.

Plan your meals carefully to minimize leftover foods.

If you've found things you've borrowed from others, return them now

Find a babysitter or plan a playdate for packing and moving day.

 Make sure that your computer is backed up by saving files to an external hard drive, the cloud, or both.

Find your plants a new home.

Purge any remaining unwanted items.

Clean your old home from top to bottom or arrange for a professional move-out cleaning.

Pack a bag for each family member with essential items such as a few changes of clothes, toiletries, medications, books, toys, etc. Don't forget chargers for everyone's devices!

Be sure to set aside pet food and bowls, leashes, crates, and anything your pet may need between now and arriving at your new home.

Set aside a stash of diapers, wipes, creams and anything else an infant or toddler will need.
The Day Before Your Move
Place items you don't want packed up and put on the moving truck in a dedicated locked room or in your vehicle. Be sure to include everyone's bags, prescription and over-the-counter medicines, pet food, and travel snacks.

Confirm the time your movers will arrive the next day.

Be sure you have snacks and drinks for moving day.

Check over your lists to be sure you didn't miss anything.

Make sure you have cash on hand to tip the movers (if using professional movers.)

If you are traveling to your new home by car, pack a separate bag with items you will need immediately upon arriving at your new home such as toilet paper, paper towels, a trash can, etc., and place it in your locked room or vehicle.

Get a good night's sleep!
Moving Day
Congratulations! It's finally the day of your big move. If you've followed the step-by-step checklist, you should be ready to go, but even the best laid plans can have some hiccups.
If you find you're missing something important on your to-do list, it's time to call in the cavalry—your friends and neighbors. Ask them to help you take care of it today or ask that they handle it for you after you've moved out.
Wake up early and have a good breakfast to give you energy for the day.

If you are using professional movers, review the contract and make sure you understand all the charges and how the day will go.

Order pizza, tacos, or other food that will feed a crowd so no one is hungry on moving day!

Do a final walk through of your old home to ensure that you haven't forgotten anything.

Double check that you have everything you need and that all the doors and windows are locked at your old home.

Ensure that you have returned all keys to your landlord or real estate agent (if applicable).

Say goodbye to your old home and begin your journey to your new one!
Hopefully, this list will make your move a little less stressful. Moving is a lot of work, but it's also exciting! We'll be talking about arriving at your new home in our next blog post.