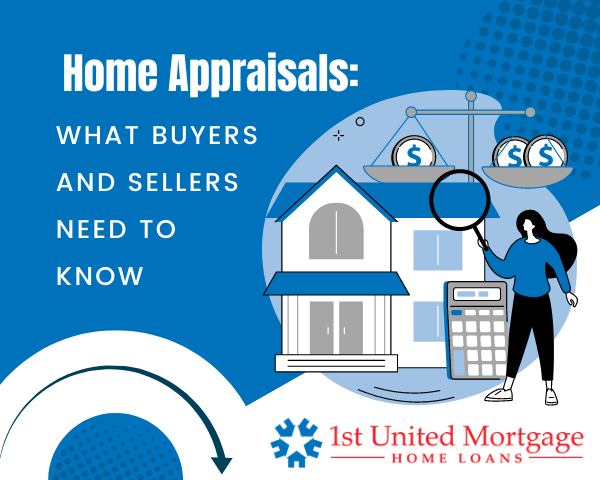 If you're in the market to buy or sell a home, and in some cases, refinance a home, then you need to be aware of home appraisals. Appraisals are a key part of the real estate process, and they can have a big impact on whether or not a sale goes through.
In this article, we will discuss what home appraisals are, and we will give you some tips on how to prepare for them. We will also talk about what to do if there is a discrepancy between the appraisal value and the sale price. So whether you're a buyer or seller, read on for everything you need to know about home appraisals!
When you're ready to buy, 1st United Mortgage is there for you! We are VA loan specialists and are proud to serve military families. Use our online affordability calculator to learn how much home you can afford. Once you find the right home for the right price, call us or apply online.
What is a Home Appraisal? 
A home appraisal is an estimate of the value of a property, typically conducted by a professional appraiser. Appraisals are used in both the buying and selling process, and they can have a big impact on whether or not a sale goes through. For buyers, mortgage lenders often require an appraisal to ensure that the property is worth the loan amount. If the appraised value is lower than the purchase price, the buyer may need to come up with additional cash to make up the difference. For sellers, an appraisal can give you an idea of how much your home is worth on the market. This information can be helpful when setting a listing price.
Most homeowners think that the value of their home is higher than it actually is. An appraisal is an unbiased estimate of your home's market value by a licensed professional appraiser. This number may be different than what you think your home is worth, but it's important to remember that appraisers are looking at your home from a third-party, unbiased perspective. Here are some tips for sellers to prepare for and make the most of a home appraisal, as well as what buyers should know about the process.
For Sellers
How Appraisers Value a Home
First, it's important to understand how appraisers view your home. They are looking at three main factors: the location of your home, the condition of your home, and recent comparable sales in your area.
You can't do much about the location of your home, but you can make sure the condition of your home is as good as it can be. This means repairing any damage, cleaning up any messes, and generally making sure the property is in good condition inside and out.
If there have been recent comparable sales in your area, that will give the appraiser a good idea of what your home is worth. However, if there haven't been any recent sales, they will have to base their valuation on other factors.
One thing you can do to help in this situation is provide the appraiser with a list of recent improvements you've made to your home. This could include things like a new roof, new windows, or a new HVAC system. By providing this information, you can help the appraiser see your home's true value.
Should I Make Home Improvements Before Selling?
You'll want to be strategic about any home improvements you make before an appraisal. Some upgrades are worth more than others – for example, a finished basement will likely add more value than painting the kitchen cabinets. 
Any improvements you make should offer a good return on your investment. Some of the big-ticket items that can increase the value of your home are:
Update your landscaping & front entry

Install a new garage door.

Kitchen and bathroom remodels – large or small

Replace your siding and/or windows.
If you don't want to make any major investments in your home, these small improvements can still add to your home's appraisal and are pleasing to buyers.
Landscaping: First impressions are everything, so make sure your home has curb appeal by keeping the lawn trimmed and adding some colorful flowers or plants.

Paint: A fresh coat of paint can do wonders for the outside and inside of your home. Choose neutral colors that will appeal to a wide range of buyers.

Kitchen updates: Even small changes in the kitchen, such as new hardware or backsplash tile, can give it a fresh look and feel.

Bathroom updates: Like the kitchen, even small changes in the bathroom can make a big difference. New fixtures, towel bars, and shower curtains can give it a whole new look.

Declutter: One of the best things you can do to prepare your home for sale is to get rid of all the clutter. This includes everything from excess furniture to piles of clothes and toys.

Deep Clean: A clean home is a must when putting your house on the market. Make sure to dust, vacuum, and mop every inch of your home before showings begin.

Update light fixtures: Outdated light fixtures can make your home look dated. Replace them with some inexpensive, modern ones to give your home an updated look.

Add new hardware: Another quick and easy update you can do is to replace old cabinet hardware with new, stylish ones. This is a relatively inexpensive way to give your kitchen or bathroom cabinets a whole new look.

Get rid of pet odors: If you have pets, it's important to make sure your home doesn't have any pet odors before showings. Be sure to keep the litter box clean and vacuum regularly.

Minor repairs: Be sure to take care of any minor repairs around your home before listing it for sale. This could include fixing leaky faucets, repairing cracked tiles, or patching holes in walls.

Update window treatments: Outdated or damaged window treatments can make your home look dated. Replace them with some fresh, new ones to give your windows an updated look.
As a seller, you should be prepared for the possibility that the appraised value may still  be lower than the sale price. If this happens, there are a few options that you can consider:
Negotiate with the buyer to lower the purchase price to match the appraisal value

.Pay for a second opinion from another appraiser.

Walk away from the sale. If you are not satisfied with the appraisal, you are under no obligation to sell your home.
For Buyers
If you're a home buyer in a thriving real estate market (a "seller's market) you may find that the appraisal comes in higher than you expected. This can happen because the recent sale prices of nearby homes is a factor in determining the appraisal value.
If the market is fairly balanced and you feel like the appraisal is too high, there are a few things you can do. One option is to reach out to the appraiser and ask them how they reached that number and see if they'll reconsider.
Another is to ask for a second opinion. It may be that the second appraiser has a different view of the property. If the second opinion is the same or higher, you can be confident that the price is reasonable. If the second opinion comes in lower, you may have more negotiating power.  
As stated above, you can also try to negotiate with the seller (with or without a second opinion) to see if they will lower the price of the home. 
Of course, you can walk away from the deal if you don't feel comfortable with what the appraiser has said. Just keep in mind that if you may have to forfeit any earnest money or option fee that you paid.
Remember, it's important to get an appraisal that you're comfortable with before moving forward with your mortgage loan. Otherwise, you could end up paying more for your home than it's actually worth.
Appraisals are an important part of the home buying and selling process, but they can also be confusing and stressful. Hopefully this helped to clear some things up and gives you a better understanding of what to expect. 
When you're ready to purchase a home, contact 1st United Mortgage.  Our process is simple and we will help you every step of the way. Call us at 931-548-1985 or apply online.
1st United Mortgage is dedicated to serving veterans and military families. As VA Loan specialists, our experts are trained specifically on VA eligibility requirements and will walk you through every step of the loan process. Our mission is to make the mortgage process as simple and stress-free as possible for you. We strive for 100% satisfaction & we're proud of our 5-star review rating. 
*FHA, USDA, & other options available for those who don't qualify for a VA
loan
.