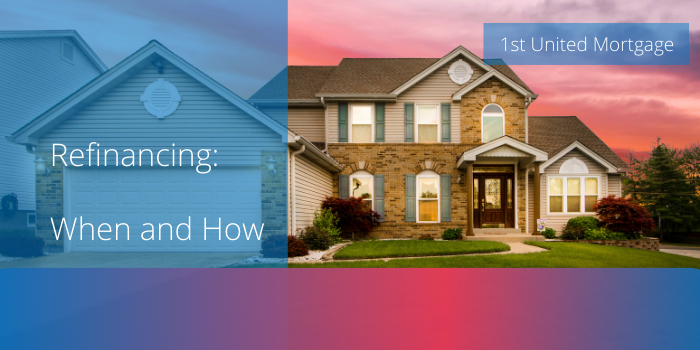 In essence, refinancing your home merely means that you replace your existing home loan terms with new ones. A brand new loan could mean lowering your current interest rate and ultimately saving money on your monthly payment. 
Let's explore how to pinpoint when to take the plunge on refinancing your home and the potential benefits of taking this big step.
How do you know it's time?
Generally, a good marker for knowing when to refinance your mortgage is if you plan to stay in your home for a few more years and if you can lower your interest rate by half a percentage point. 
However, there are a few different scenarios where taking the refinancing route makes logical sense. For example, if you're looking to replace a 30-year mortgage with a shorter-term 15-year mortgage. Or let's say you've gotten to a point where you've built up at least 20% of your home's equity, and you're looking to waive the PMI, or private mortgage insurance. 
Maybe you've built up an impressive credit portfolio. Great credit is attractive to lenders whether you have a VA or a conventional loan. This could be your opportunity to switch from an adjustable-rate mortgage to a fixed-rate mortgage to allow yourself the peace of mind that comes with a more predictable monthly payment. 
How to refinance your mortgage
Refinancing your mortgage should start with creating realistic financial goals, whether that means shortening your term or reducing your monthly payments. You should also shop around and compare lenders to make the best decision for you. 
When you find the right match, you'll need to:
Gather necessary paperwork such as pay stubs, bank statements, and tax returns to give to your lender for them to get an accurate picture of your net worth and assets. 

Followed by obtaining an appraisal on your home as it stands, especially if you've made any upgrades or repairs to the house since you purchased it. This will determine your home's current market value. 

You'll need to pay closing fees to close out your original mortgage, so make sure to save some money for those costs, which will be based on your loan estimate as well as your closing disclosure. 
And finally, be sure to keep copies of your closing paperwork and set up automatic payments if that's something you're comfortable with. That'll ensure you stay current and can even qualify you for a lower monthly rate in some cases. 
If you have any questions about starting the refinancing process on your home, please don't hesitate to reach out to one of our brokers here at 1st United Mortgage. Contact us today!