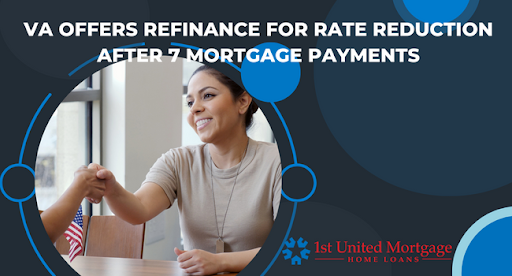 If you're considering refinancing your home loan, you may have come across the term "Interest Rate Reduction Refinance Loan" (IRRRL). Also called a "Streamline" or a "VA-to-VA" loan, an IRRRL can be used to refinance an existing VA loan to a lower interest rate.
VA-backed IRRRLs are available from private lenders, like 1st United Mortgage, who participate in the VA Home Loan program. These loans can also be used to refinance an adjustable-rate mortgage (ARM) to a fixed-rate loan.
If you're not sure whether an IRRRL is right for you, our team of home loan experts can help you explore your options and find the best solution for your needs. Give us a call today at (931) 548-1985.
What Is A VA Interest Rate Reduction Refinance Loan?
The VA IRRRL is a refinance mortgage loan available to homeowners with existing VA mortgages. The program, which is commonly known as the VA Streamline Refinance, simplifies home refinancing by waiving the documentation typically required by a bank, including income and employment verification, bank account statements and appraisals.
VA IRRRLs can only be used to refinance an existing VA loan to a lower interest rate. They cannot be used to get cash out of equity or for any other purpose.
How to Apply for a VA IRRRL?
Applying for a VA IRRRL is relatively simple and can be done in a few steps:
Get in touch with a participating lender.

Work with the lender to get a Certificate of Eligibility (COE).

Gather required documentation, such as proof of income, asset and employment verification, and bank statements.

The lender will process your loan application and close on the loan.
What are the requirements for a VA Interest Rate Reduction Refinance Loan?
For a VA Interest Rate Reduction Refinance Loan, the borrower must:
have a minimum credit score of 620

have a maximum loan-to-value ratio of 100%

have a maximum debt-to-income ratio of 41%

be current on their mortgage payments with no more than one 30-day late payment in the last 12 months

have a clear CAIVRS report

have a Certificate of Eligibility from the VA

You have to have made at least 7 payments on your current mortgage.
What are the benefits of a VA Interest Rate Reduction Refinance Loan?
A VA Interest Rate Reduction Refinance Loan offers several key benefits.
When you refinance your mortgage, you may be able to choose a new loan term that is shorter or longer than your original loan.
A shorter loan term will result in a lower interest rate, but higher monthly payments.

A longer loan term will have a higher interest rate, but lower monthly payments.
No matter which you choose, you have the potential to save a significant amount of money over the life of your loan. A shorter term loan is designed to help you pay your loan off faster at a lower rate than a traditional 30-year mortgage.
A 30-year loan with a lower interest rate can also save you money over the life of your loan and can help you pay off your loan faster by putting more money in your pocket to apply to the principal. You'll also build equity faster with extra money going towards principal each month.
How do I apply for a VA Interest Rate Reduction Refinance Loan?
To apply for a VA IRRRL, you'll need to work with a VA-approved lender. At 1st United Mortgage, we're proud to be a VA-approved lender, and we're dedicated to helping Veterans take advantage of their hard-earned benefits.
To get started with your IRRRL application, simply give us a call at (931) 548-1985 or fill out our online form. One of our friendly loan specialists will be in touch to answer any of your questions and get the process started.
Documentation
Like any mortgage refinance, there are a few things you'll need to have in order to qualify. These include:
Proof of income

Bank statements

Asset information
Unique to the VA loan process is The Certificate of Eligibility, or COE, which verifies to the lender that you are eligible for a VA-backed loan. The COE tells you how much you can borrow and also gives the lender permission to fund your loan. Veterans can obtain a COE through eBenefits, by mail, or we can help you obtain one.
Once you've gathered the required documentation, your loan specialist will work with you to complete the application process.
What is the current VA Refinance rate?
Mortgage rates are ever-changing. Oftentimes, they change daily! The best way to find out the current VA refinancing rate is to give us a call.
You may be able to lock in your mortgage rate when you refinance, which can protect you from rising interest rates in the future.
About 1st United Mortgage
1st United Mortgage is a family-owned and operated business. We are a VA Approved Lender in TN, FL, KY, AL, CO, GA, NC & VA. We are proud to serve military families. 
The VA Home Loan is available only to veterans & active members of our armed forces. Use this exclusive benefit to get a home loan for $0 down. We have low credit options available.
When you work with us, you can expect personal attention and honest advice. We will work with you to find the best loan program for your unique situation, and we will never pressure you into something that isn't right for you.
We offer a variety of loan programs, including:
VA Loans

Conventional loans

FHA loans

USDA loans

Jumbo loans
No matter what your needs are, we are confident that we can help you find the right loan. Contact us today to get started!
Applying for a VA Interest Rate Reduction Refinance Loan is a great way for Veterans to take advantage of their benefits. If you have any questions, or if you're ready to get started, please don't hesitate to contact 1st United Mortgage at (931) 548-1985 or contact us online.